Music
'Together with Jesus, we love to learn and learn to love'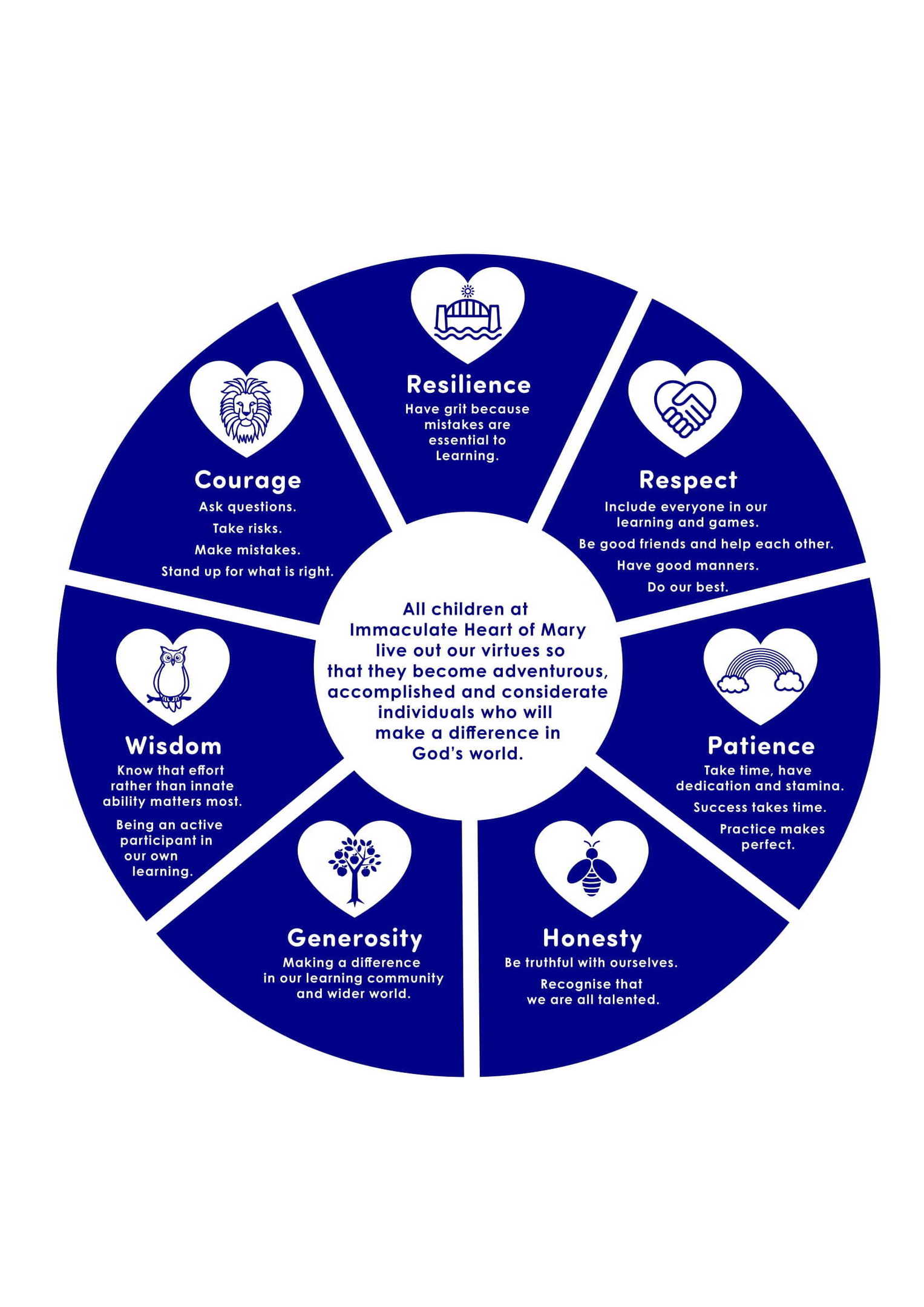 Why we have made the choices and decisions we have in designing our curriculum
At Immaculate Heart we intend our Music curriculum to inspire creativity, self-expression and a love of music which will last for their lifetime. We believe that "Music is a universal language that embodies one of the highest forms of creativity" (The National Curriculum) and as such, children should be given regular opportunities to develop the skills needed in order to access and appreciate this language.
Through a skills-based Music curriculum we intend our pupils to flourish as musicians and performers. We intend that our pupils are able to listen and respond to music from a range of different styles, use their voices and other instruments to make music, compose and perform. We intend to instil a confidence in themselves as musicians and performers which will have a positive impact on their appreciation and enjoyment of music and on their self-esteem and self-worth.
Children will become adventurous, accomplished, and considerate pupils through our carefully designed curriculum. We aim to develop pupils who



Are confident singers, able to perform individually and in a group




Can create and compose music for a range of purposes




Can use musical vocabulary to describe a piece of music




Can give opinions about a piece of music they have listened to and back up their opinions




Can perform in front of an audience with confidence and enjoyment




Can play a musical instrument either on their own or as part of a group




Can make music with others and be aware of the role they play in a group of other musicians



How subject is taught in our school
At Immaculate Heart, we follow a skills-based curriculum in which musical skills are taught, practised and revisited regularly in a weekly music lesson in their class group. Music lessons are always practical and typically involve musical games, singing, playing musical instruments and listening and responding to music.
In Key Stage 1, children are given many opportunities to listen to and respond to a wide range of music. In every lesson, children will be given opportunities to develop their sense of rhythm and pulse (beat). This could be through listening to recorded or live music, through singing and chanting songs and rhymes. Children will learn how music is created, produced and communicated through the inter-related dimensions of pitch, duration, dynamics, tempo, timbre, texture and structure. Children are given regular opportunities to play both tuned and untuned percussion instruments in their lessons and to explore how to use these to create their own music.
Children participate in a weekly singing lesson with all children from EYFS and Key Stage 1. Through singing age-appropriate songs and hymns, children learn about the importance of warming up the voice, good posture, diction and, most importantly the joy of singing with others.
In Key Stage 2, children have a weekly music lesson. These lessons further develop the pupils' musical skills, develop and refine their sense of rhythm and pulse, develop their awareness of pitch and singing technique and develop their understanding of composition and the techniques and skills involved. Children begin to learn and understand more formal methods for notating rhythm and pitch.
Children in Key Stage 2 are also given opportunities to learn to play musical instruments. Many of our pupils take part in small group lessons in Guitar, Violin or Woodwind, taught by teachers from Artforms Leeds. One year group is also given the opportunity to work with a member of staff from the Diocese of Leeds Music Singing Programme for a year, building upon their singing skills and further improving singing technique. In Music lessons, pupils in Key Stage 2 will learn to play the recorder, ukulele and glockenspiel, using the instruments to perform and compose whilst developing their musical skills.
A weekly singing assembly takes place for all our Key Stage 2 children. Children will learn both sacred and secular songs, learn to sing songs in 2 or 3 parts, and, most importantly, discover the joy of singing with others.
At Immaculate Heart, our pupils are given many opportunities to perform to an audience.
These include: Nativity performances, Carols Around the Crib, singing for church parishioners, singing at Mass and other Liturgies, Rothwell Music Festival, Awards assemblies, school concerts, Light Up A Life service at St. Gemma's Hospice, school fairs, Leeds Trinity Partnership Concert, carol singing at local care homes, Year 6 Leaver's Musical.
What is the impact of our music curriculum?
We aim for all children at Immaculate Heart to become confident and capable musicians and performers. Our curriculum ensures that children develop an interest in and a love of music which will lead them on to their next stage in their musical education.
Over the course of their time at Immaculate Heart of Mary, children will have



Performed a piece of music in front of an audience




Composed music for different purposes eg. sound effects for a story, a Tudor fanfare for the king




Listened and appraised music from a wide range of genres from plainsong to pop




Learnt how to notate music in various ways




Evaluate their own and each others' compositions and performances




Had the opportunity to learn a musical instrument