PE
'Together with Jesus, we love to learn and learn to love'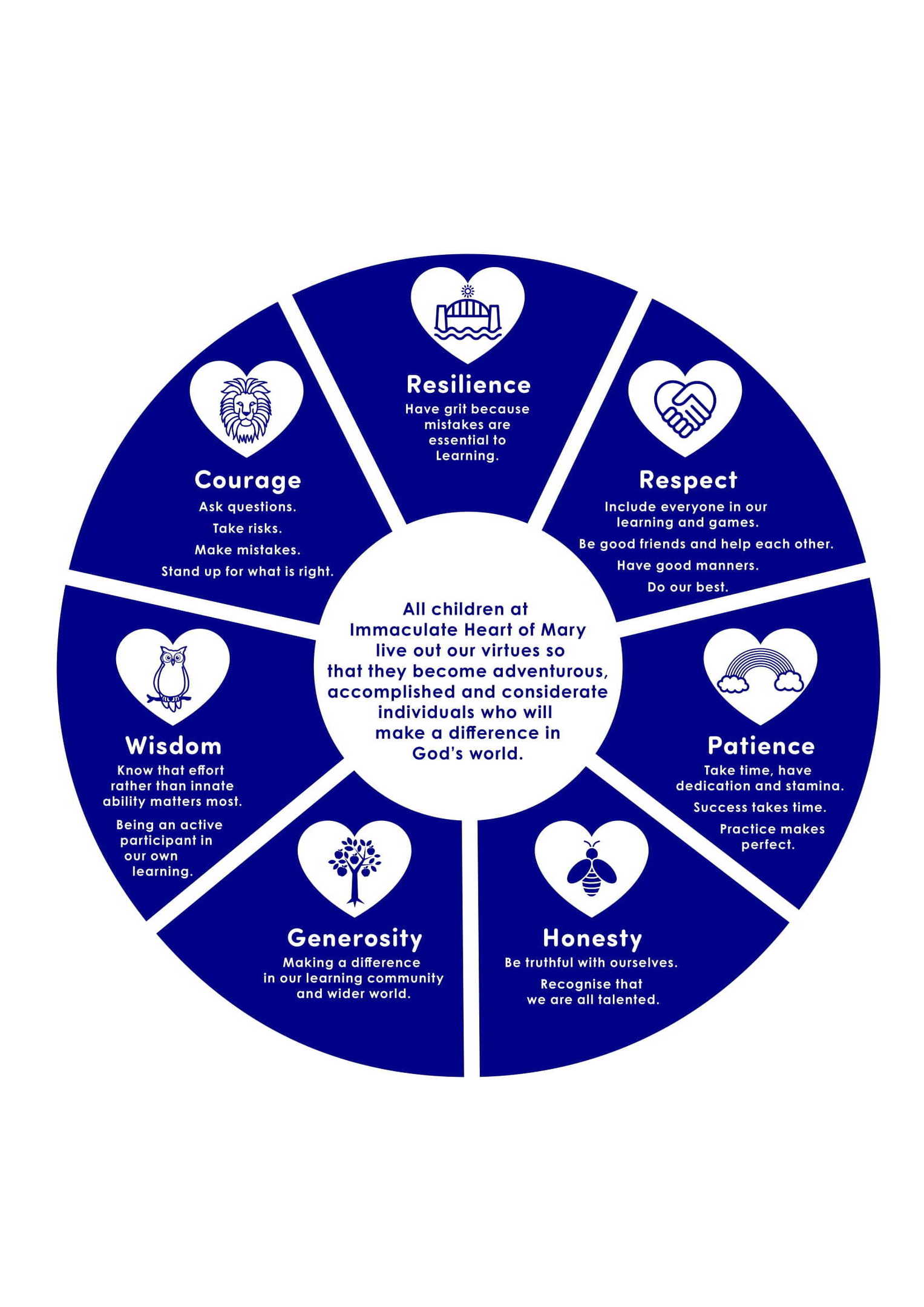 Intent, Implementation & Impact
Intent
Why we have made the choices and decisions we have in designing our curriculum
At Immaculate Heart we believe it is important to create a supportive environment where all children are adventurous, accomplished, considerate and physically active for sustained periods of time. To develop the school's core values through physical education (PE) whilst promoting positive emotional and social wellbeing.
By delivering a broad an balanced curriculum through high quality teaching, we aim to encourage and motivate all children to develop their full potential through a wide range of physical activities within a challenging yet supportive environment; provide an equal opportunity for all children to partake in physical education, school sports and physical activity (PESSPA); develop an understanding of the benefits of physical activity and a healthy lifestyle now and in later life; promote the development of our core social values (courage, wisdom, respect, patience, resilience, generosity, honesty); heighten self-esteem and develop emotional and social wellbeing amongst all children.
.
Implementation
How subject is taught in our school
PE at Immaculate Heart is provided through challenging but inclusive curriculum. This curriculum taken and adapted from the TLP_PE scheme of work and is enhanced with the use of external specialist teachers. Careful consideration has been given to these activities to equip the children with as broad a range of skills and experiences as possible. The long term plan sets out the PE units which are to be taught throughout the year and ensures that the requirements of the National Curriculum are fully met. Each activity follows a progression of skills map to ensure that there is a continuity of learning from year to year. At the end of each unit of teaching, these skills are assessed against the NC targets. Continual CPD takes place throughout the year, again with the help of specialists, to ensure the quality of the teaching.
In KS1 the activities will be non-sport specific and based on fundamental movement skills. These include throwing and catching, gymnastics (travel & shape - balance & jumps), sending & receiving, net & wall games, striking & fielding, attacking & defending, athletics and dance. In KS2 the activities are sports specific and include football, dodgeball, netball, hockey, tag rugby, dance, tennis, badminton, cricket, gymnastics, athletics and basketball. Early Years have their own carefully designed long term plan, based on the Early Years Framework, which takes into consideration the needs and interests of the children.
Pupils participate in two high quality PE lessons each week, covering two sporting disciplines every half term. In addition, children are encouraged to participate in the varied range of extra-curricular activities that are offered during lunchtime and after school. As well as traditional clubs like football, the school also focuses on non-traditional sports such as tchoukball, table tennis, badminton and go-kart football in order to attract the widest range of participants. In addition to intra-school activities, pupils also have access to a wide range of inter-school activities. These are in the form of competitive leagues or cups (football, netball, rugby, dodgeball) as well as non-competitive come and try events which focus purely on participation (ice-skating, go-karting, BMX, OAA). Targeted activities and clubs are also run for pupils who have been identified as requiring further support, confidence or opportunity. In year 5 the pupils swim once a week for 30 weeks.
Each year, children in year 5 apply to become Sports Leaders for the school. A small group are provided with training and develop into sporting role models for the younger children, assisting with lunch-time clubs, our annual Sports day and any other Sporting activities.
PE is an important driver of the schools core values (courage, wisdom, respect, patience, resilience, generosity, honesty) and hence are at the forefront of all that we teach. After every PE lesson a star of the week trophy is awarded to a girl and boys who has best demonstrated these virtues during the lesson.
.
Impact
At Immaculate Heart, we ensure that our PE curriculum is inclusive and progressive and allows all children the opportunity to develop. The impact of the PE curriculum is that the children will meet their age-appropriate skills in Physical Education and be able to transfer these skills into other sports and everyday activities. PE lessons are enjoyable whilst challenging and delivered by confident and skilled teachers. This impact is measured by learning walks, pupil voices, PE Premium spend analysis, regular staff CPD and assessment data. Participation is increasing: by listening to the requests of the children we are providing wider range of sports and activities to a wider range of children. The school's core values (courage, wisdom, respect, patience, resilience, generosity, honesty) are being promoted, developed and reinforced by all activities. We provide children with the confidence and physical Literacy that we hope will become the foundation of a lifelong love and participation in physical activity benefitting their physical, social and emotional health. The school was proud to be awarded The Gold School Games Mark in 2022.
National Curriculum Links
PE Long Term Plan 2022-23
Key Stage Progression Map Overview
Extra Curricular Sports Clubs 2022-23
Girls Football (Year 6)
Boys Football (Year 6)
Cross Country (KS2)
Netball (Year 5 & 6)
Table Tennis (Year 3)
Badminton (Year 4)
Tchoukball (Year 5)
Go Kart Football (Year 6)
Kinball (Year 5)
Dance (Year 4)
*this list may be updated throughout the year.
KS2 Individual Activity Skill Progression Maps