RE
'Together with Jesus, we love to learn and learn to love'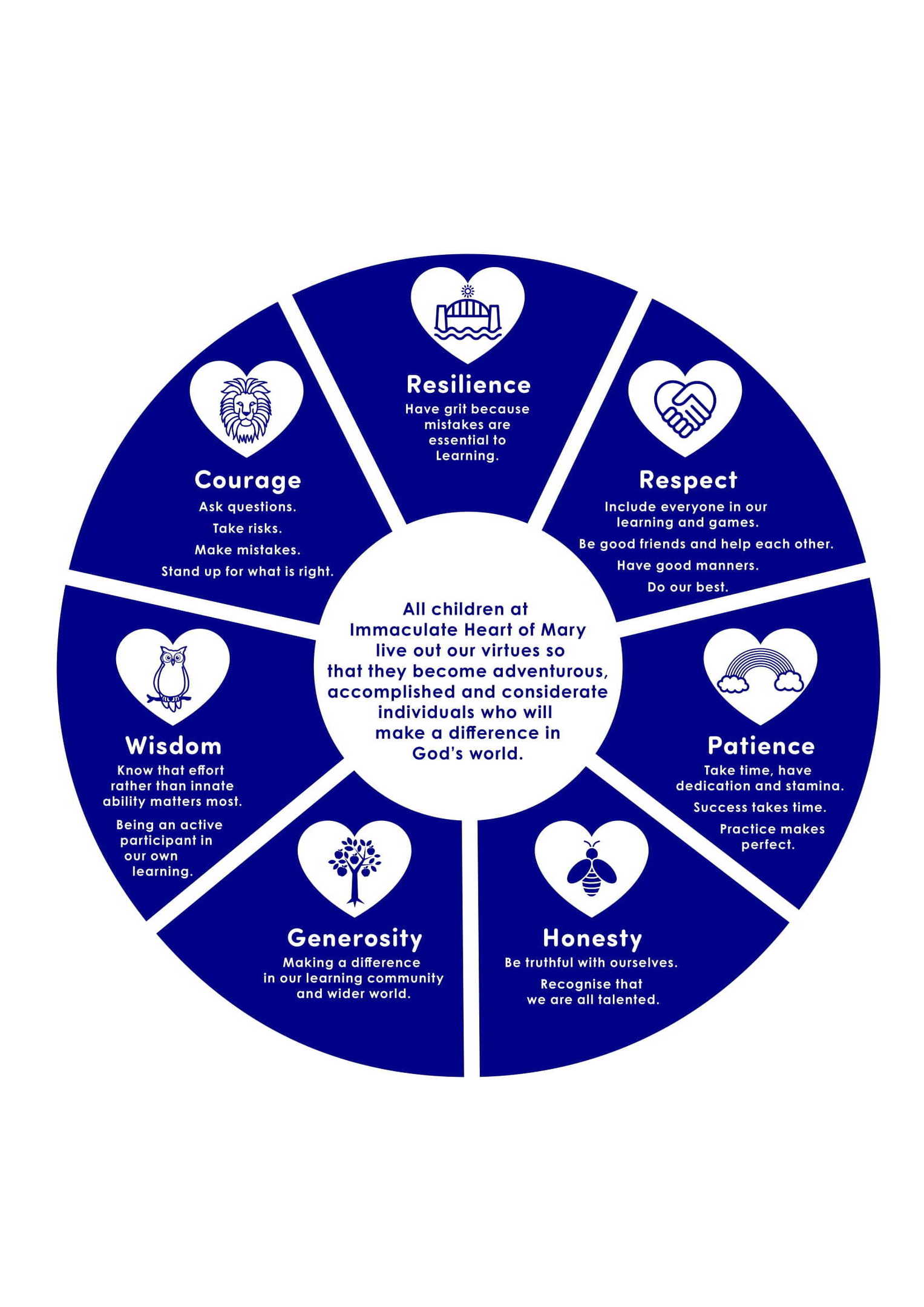 "To put Christ and the teachings of the Catholic Church at the centre of the educational enterprise is the key purpose of Catholic schools." (Christ at the Centre 2013)
At Immaculate Heart, we want our children to be the best that they can be at each stage of their learning journey. We want them to be adventurous, accomplished and considerate members of our school and of society. Our Character Education is central to achieving this. We aim to be a place where the spiritual, cultural and personal worlds within which we live come together to form the roots from which grow our values, motivation, aspirations and the moral code that inform our choices and actions as people. We want to nurture in our children their own sense of faith, their relationship with God, themselves, their families and the wider communities of which they are a part and to recognise the unique qualities that they bring to enhance each of these relationships. We want our children to practice their faith through worship in a variety of forms and to recognise how this strengthens their personal relationship with God. We aim to equip our children with a systematic understanding of our faith; to know bible stories, understand the sacraments, know about Saints and other significant religious figures and understand how faith impacts on the lives of others and ourselves.
"The outcome of excellent Religious Education is religiously literate and engaged young people who have the knowledge, understanding and skills – appropriate to their age and capacity – to reflect spiritually, and think ethically and theologically, and who are aware of the demands of religious commitment in everyday life (RECD 2012 p6)"
Our mission statement and school virtues are at the heart of our pastoral systems, curriculum and policies in order that our children become adventurous, accomplished and considerate individuals.
We recognise virtues in behaviour, academic work and extra-curricular activities. Our children know what makes our school special and how they live out these virtues to be the best that they can be and they are ambassadors for our school and their faith both in school and out.
We use 'The Way, the Truth and the Life' Diocesan approved scheme as the basis for our curriculum RE teaching and learning. In line with the other schools in the St. Gregory the Great Trust, we use 'Life to the Full' produced by Ten Ten Resources alongside our pastoral systems and PHSE curriculum to deliver our Relationships Education.
Our RE curriculum is assessed using Diocesan agreed assessment information which outlines Age Related Expectations for the end of each taught topic. Teachers used the statements provided alongside children's work across the topic to make a judgement that then informs a termly progress. Data is recorded in line with our school policy and is analysed by the RE lead in school to identify strengths and areas for development.
RE Long term plan
| Name | |
| --- | --- |
| Long Term Plan R.E. (1).docx | Download |
Showing 1-1 of 1
RE Curriculum and Catholic Life