Welcome to our curriculum webpage for Computing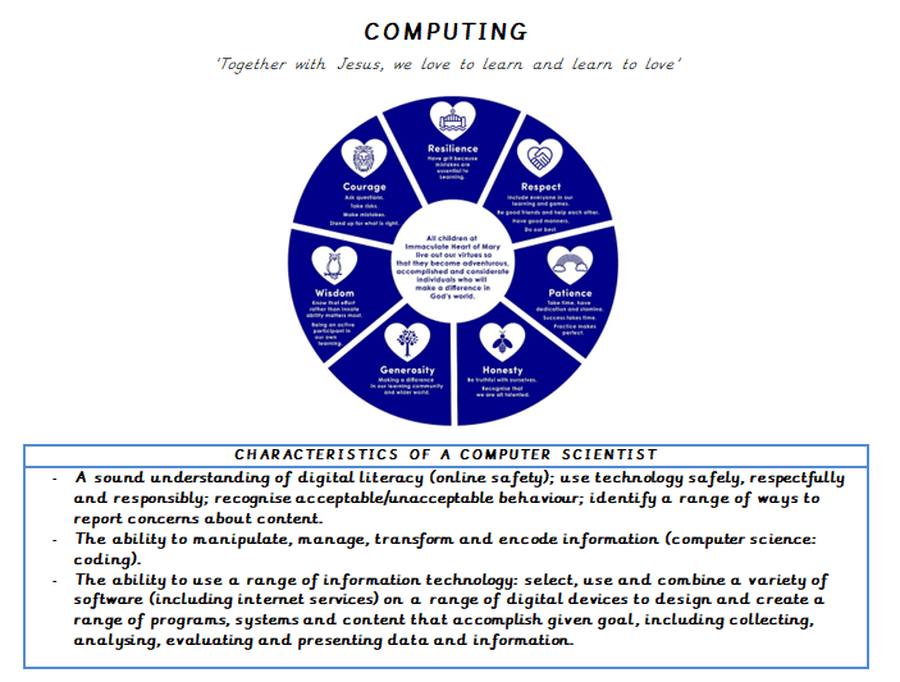 Why we have made the choices and decisions we have in designing our curriculum
Computing at IHOM intends to develop 'thinkers of the future' through a modern, ambitious and relevant education in computing. A positive teacher mind-set and strong subject knowledge is key to student success in computing, as we aim to enhance pupils' enjoyment, resilience, understanding and attainment in computing. Every child can enjoy and succeed in computing when offered appropriate learning opportunities. We want our pupils to use growth mind-set and problem-solving approaches to develop resilience, patience and wisdom.
We want to equip pupils to use computational thinking and creativity that will enable them to become active participants in the digital world. It is important to us that the children understand how to use the ever-changing technology to express themselves, as tools for learning and as a means to drive their generation forward into the future. Whilst ensuring they understand the advantages and disadvantages associated with online experiences, we want children to develop as respectful, responsible and confident users of technology, aware of measures that can be taken to keep themselves and others safe online. Our aim is to provide a computing curriculum that is designed to balance acquiring a broad and deep knowledge alongside opportunities to apply skills in various digital contexts. Beyond teaching computing discreetly, we will give pupils the opportunity to apply and develop what they have learnt across wider learning in the curriculum.
Our knowledge rich curriculum has to be balanced with the opportunity for pupils to apply their knowledge creatively which will in turn help our pupils become skilful computer scientists. We will also educate our pupils on the environmental impact of technology. We encourage staff to try and embed computing across the whole curriculum to make learning creative and accessible. We want our pupils to be fluent with a range of tools to best express their understanding and hope by Upper Key Stage 2, children have the independence and confidence to choose the best tool to fulfil the task and challenge set by teachers.
How the subject is taught in our school
Our scheme of work for Computing is taken from the 'iCompute' Curriculum and covers all aspects of the National Curriculum. This scheme was chosen as it has been created by subject experts and ex teachers based on the latest pedagogical research.
The scheme offers expertise in primary computing education and has the knowledge and practical skills to design primary computing curricula. It providing detailed guidance and a range of tools that enable subject leaders to audit and evaluate computing subject knowledge and skills of staff throughout the school. It also provides resources to help improve subject leadership and action planning for improving teaching and learning in Computing in line with centrally prescribed aims. Assessment data collected as part of teaching enables each pupils' progress to be monitored. Assessment data allows teachers to see, at a glance, where pupils are in their learning; to identify any gaps in coverage, knowledge.
The curriculum aims to equip young people with the knowledge, skills and understanding they need to thrive in the digital world of today and the future. Teachers expectations of the pupils are driven by the subject progression grid. Computing is embedded across the curriculum. All classes are timetabled to a Computing session each week.
This has been written with the three core areas of Computing in mind:



Computer Science – the understanding of coding and programming across a range of physical devices and digital resources.




Information Technology – the range of skills required to operate and manipulate specific programs, systems, and content.




Digital Literacy – the knowledge required to use technology safely and to evaluate and react to any potential risks of the online/digital world.



The national curriculum for computing aims to ensure all pupils:



Can understand and apply the fundamental principles and concepts of computer science, including abstraction, logic, algorithms and data representation (Computer science)




Can analyse problems in computational terms, and have repeated practical experience of writing computer programs in order to solve such problems (Computer science)




Can evaluate and apply information technology, including new or unfamiliar technologies, analytically to solve problems (Information technology)




Are responsible, competent, confident and creative users of information and communication technology. (Digital literacy)



How we make sure outcomes are high for our children
Our curriculum is designed to build on prior learning and lessons are sequenced throughout the primary phase for progression where all learning builds towards clearly defined end points:



End of unit




End of year




End of Key Stage



The majority of assessment which takes place is formative assessment allowing teachers to adapt their planning to match the needs of the children.
At IHOM, we encourage our children to enjoy and value the curriculum we deliver. We will constantly ask the WHY behind their learning and not just the HOW. We want learners to discuss, reflect and appreciate the impact computing has on their learning, development and well-being. Finding the right balance with technology is key to an effective education and a healthy life-style. We feel the way we implement computing helps children realise the need for the right balance and one they can continue to build on in their next stage of education and beyond. We encourage regular discussions between staff and pupils to best embed and understand this. The way pupils showcase, share, celebrate and publish their work will best show the impact of our curriculum. We also look for evidence through reviewing pupil's knowledge and skills digitally (through tools like Google Classroom) and observing learning regularly. Progress of our computing curriculum is demonstrated through outcomes and the record of coverage in the process of achieving these outcomes.
The subject leader monitors the impact of the computing curriculum through protected monitoring time during which they complete a range of activities: lesson observations; scrutiny of planning and work; speaking to staff and children and analysing assessment data. This process is quality assured by the Senior Leadership Team and agreed actions are added to subject leader action plans.
Year 4 'Code Club' Pictures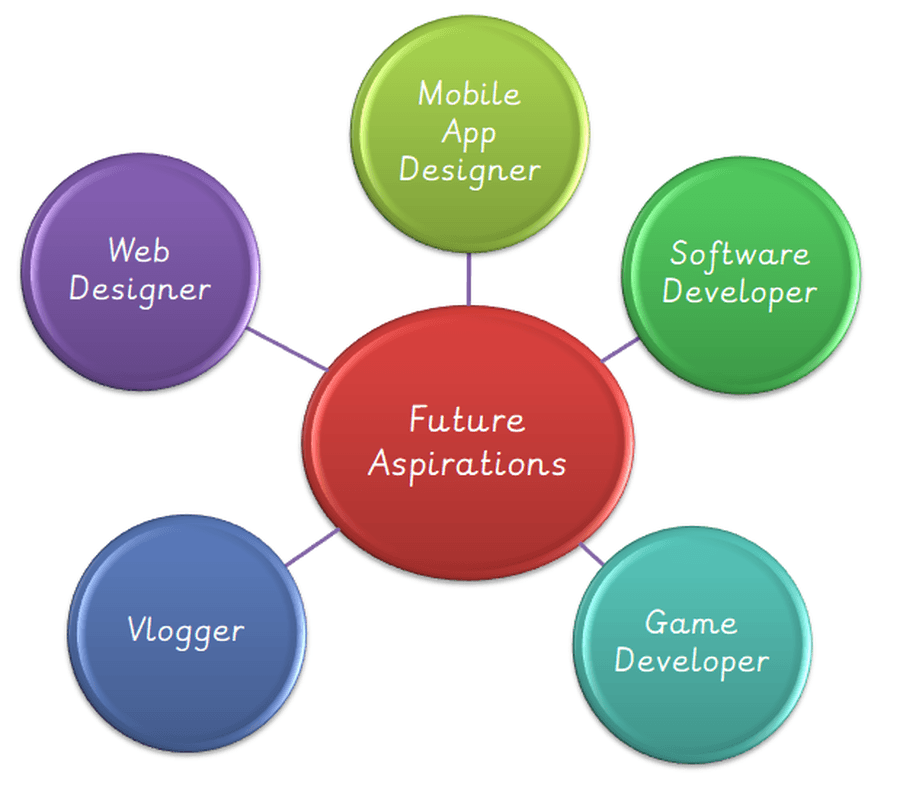 Our Year 4 Code Club have successfully participated in the Astro Pi Mission Zero launch to write code that is run in space! The teams have received a certificate that shows the location of the International Space Station when their program was run!